Mobile
Digital Keys For Seadoo and Kawasaki Used Jetskis 4 Sale News Products Rats! Pre-season Prep The Mysterious Supercharger Intelligent Brake and Reverse
What you should know BEFORE you tow
If you need to tow your Jetski back to shore or to the marina you
have to clamp off the hose that supplies cooling water or you can fill your engine with water.
Check your owners manual for the correct towing procedure for your ski.
Later model Seadoos "should have" a Red Band on the hose that should be clamped.

It cannot be emphasized enough that towing is extremely dangerous.
Contact Elephant Butte State Park Rangers @ 575-744-5421 if you need to tow.
Make the fact that you are towing highly visible to other boaters
If the towing boat does not have any signal devices(!), waving
a brightly colored flotation device can help alert other boaters.
If you stop by the shop on the way to the lake Captain Pete will mark the appropriate hose to clamp off at no charge
This way you'll be prepared in the event you need to tow your ski
Since a Jetski that requires towing likely requires service, contact Captain Pete as soon as possible when there is a towing event.
If your ski sinks or fills with water, have it serviced as soon as possible.

If the engine isn't cleared of water and run within a day or two, there is a good chance it's life will be over or severely shortened
Attempting to restart a drowned engine can result in <pictures of carnage here> bending connecting rods and destroying the engine.
Check your owners manual for the proper direction to turn your ski in the event you flip it over.
Turning it the wrong way increases the chances your engine will end up ingesting a large amount of water.

---
How dangerous can towing be?
Besides the obvious issue of an encounter with another boat...
I recently was sent this photo by an acquaintance who had an engine failure while over a mile off shore on Lake Michigan
During the tow back to shore the tow line failed, whipped back and this was the unfortunate result: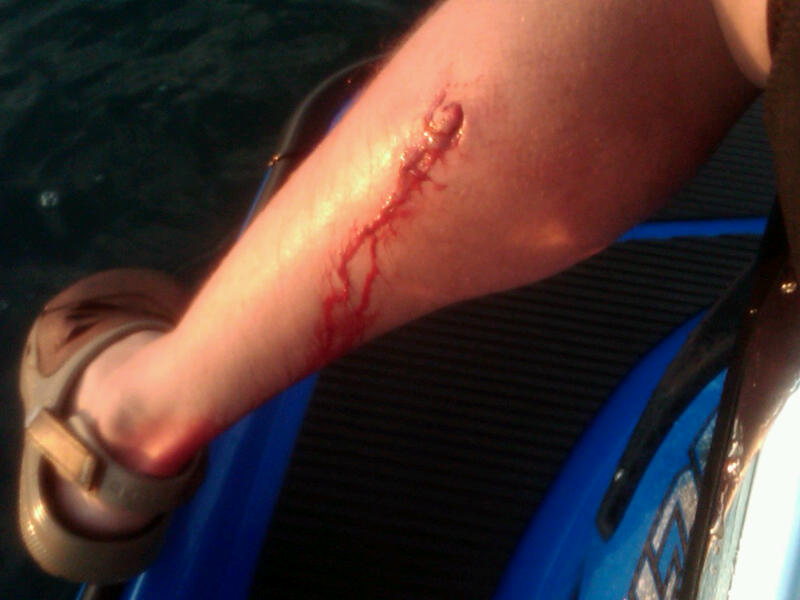 Imagine that sort of injury to your face. A severe leg injury could have been fatal had the main artery been damaged
Towing is a hazardous operation Even on flat calm water. Please call for help before towing. Stay clear of tow lines.
New Mexico Boating regulations require tow lines be on board. Clothesline does NOT QUALIFY as a tow rope
The tow line is required to be at minimum the length of your ski. Nylon Braided line used for waterskiing is NOT suitable as a tow line, use woven line for towing.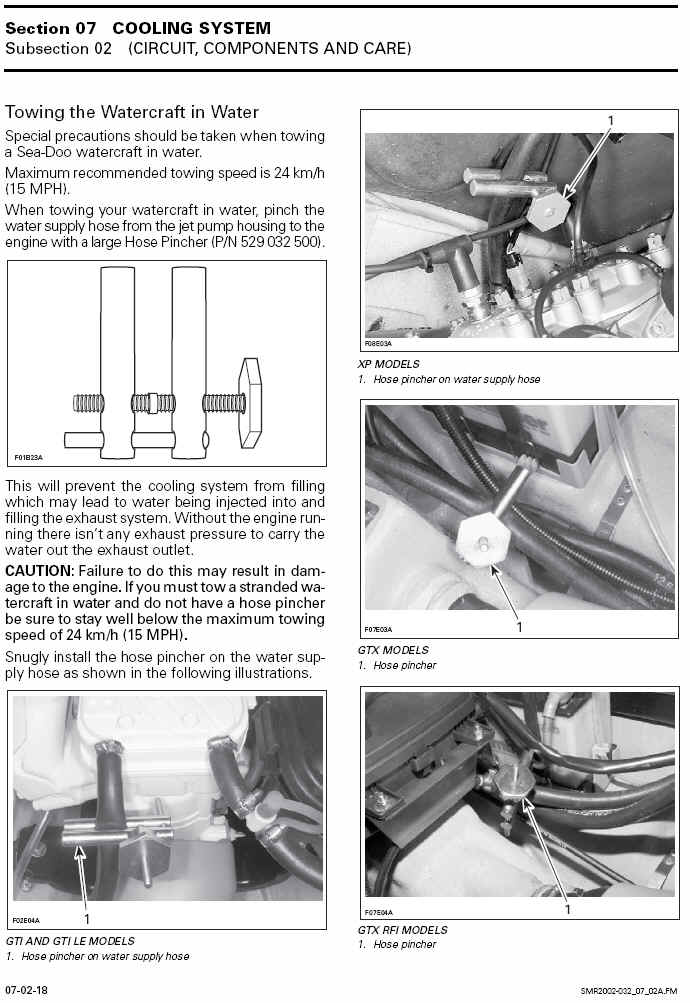 The Seadoo hose pincher gizmo is available for $48. Don't use locking pliers, they will damage the hose.